---
Gender: Men's
Model: 1774
Modified Item: No
Watch Shape: Round
Case Color: Yellow Gold
Style: Luxury: Sport Styles
Case Material: Stainless Steel
Movement: Japanese TMI VD55B Quartz Chronograph
Band Material: Stainless Steel
Features: Stop Watch
Year of Manufacture: 2010-Now
Case Finish: Polished
MPN: 1774
Age: Modern (2000-present)
Dial Color: Champagne
Band Color: Yellow Gold
Age Group: Adult
Display: Analog
Brand: Invicta
Case Size: 43.5 mm
Face Color: Yellow Gold
---
Men's Invicta Pro Diver 18k GOLD Plated SS Chronograph Champagne Dial $695 Watch
Invicta's signature timepiece, this Pro Diver puts success and style first with a round gold-tone stainless steel case and a matching unidirectional rotating bezel. Crafted with a textured edge, the bezel features a diver's scale and Arabic numerals while a matching crown and function pushers find their place on the right side. A three link bracelet adheres this Pro Diver to your wrist for a polished and professional look.
You'll find a champagne metal dial operating in the middle with a 1/10th-seconds subdial below 12:00, a 60-seconds chronograph subdial above 6:00 and a 60-minute subdial near 9:00. Lighting your time just enough, the hour positions host luminous Tritnite accented index markers while coordinating hands point you in the right direction. "Invicta" and its logo add the finishing details near 3:00.
Movement: Japanese TMI VD55B Quartz Chronograph
Movement Country of Origin: Japan
Case Measurements: 44mm
Case Thickness: 11-1/2mm
Crystal: Flame Fusion
Crown: Push/Pull w/ Function Pushers
Bracelet: Stainless Steel
Bracelet Measurements: 8-1/2" L x 22mm W
Clasp: Deployant
Water Resistance: 20 ATM - 200 Meters - 660 Feet
Weight: 6 oz
Model Number: 1774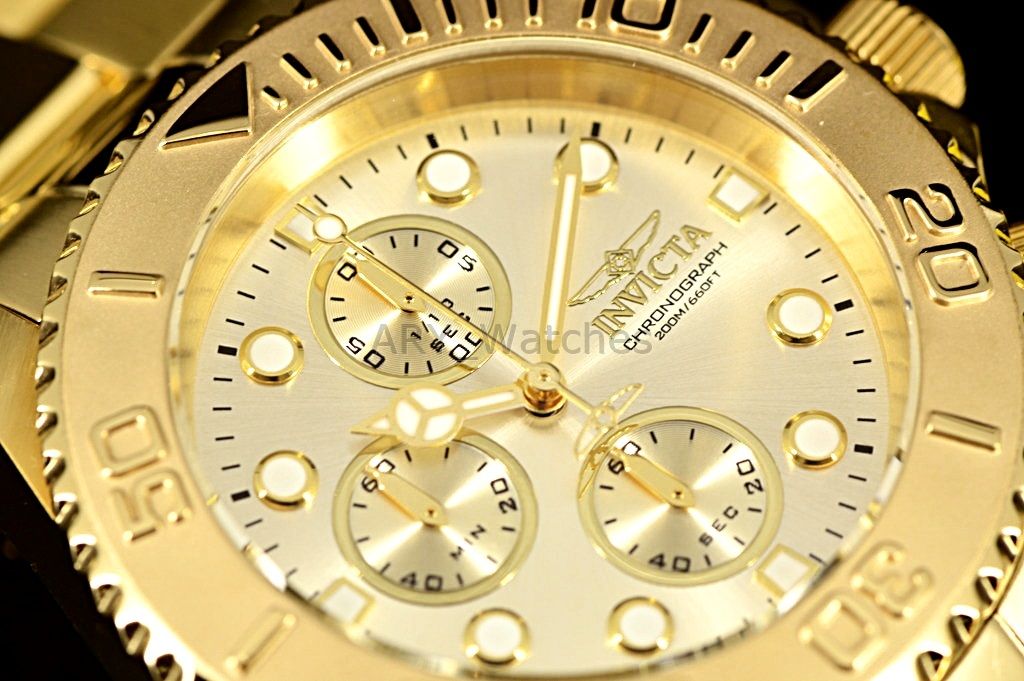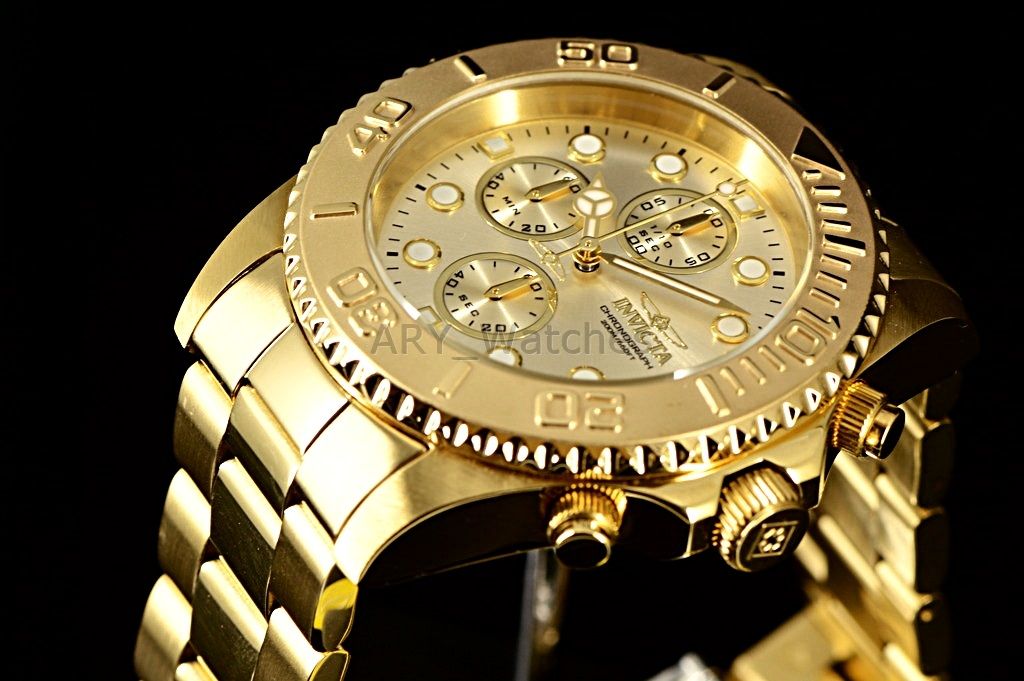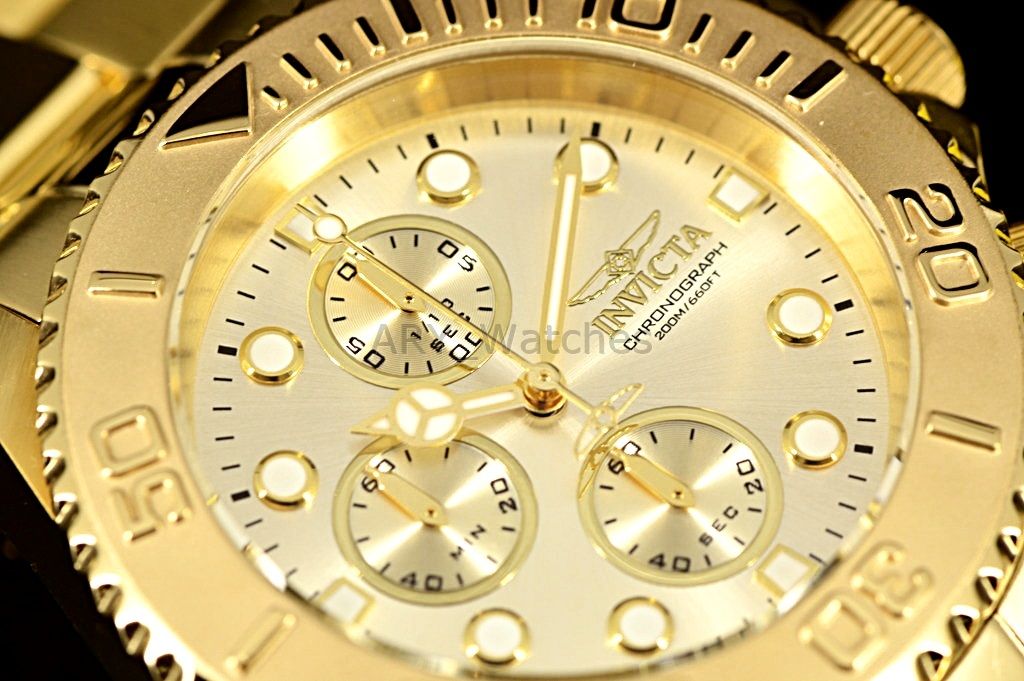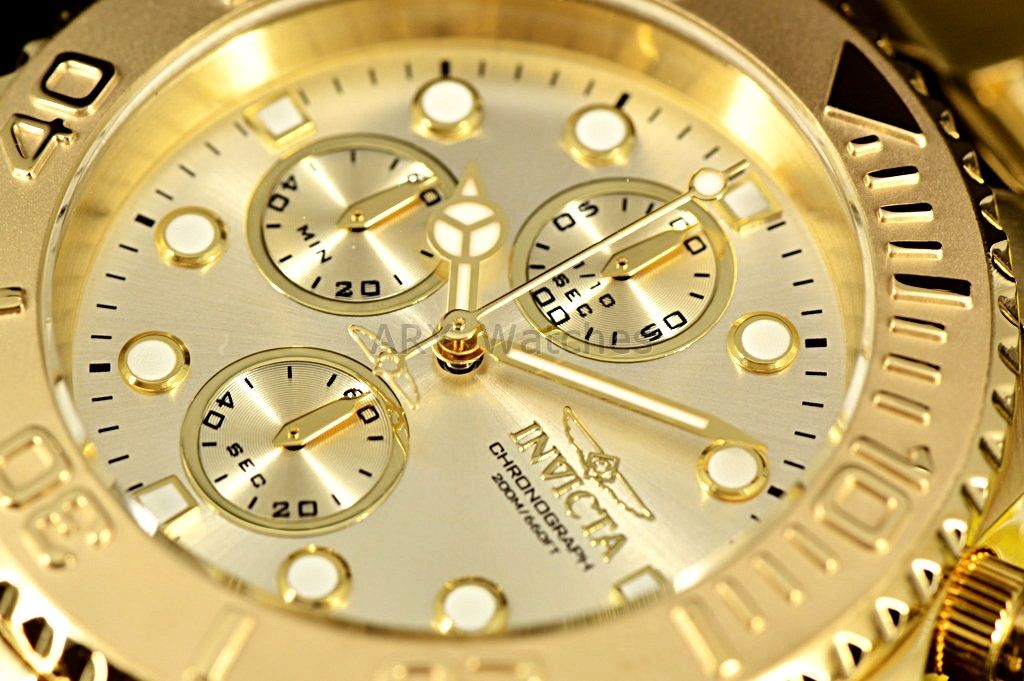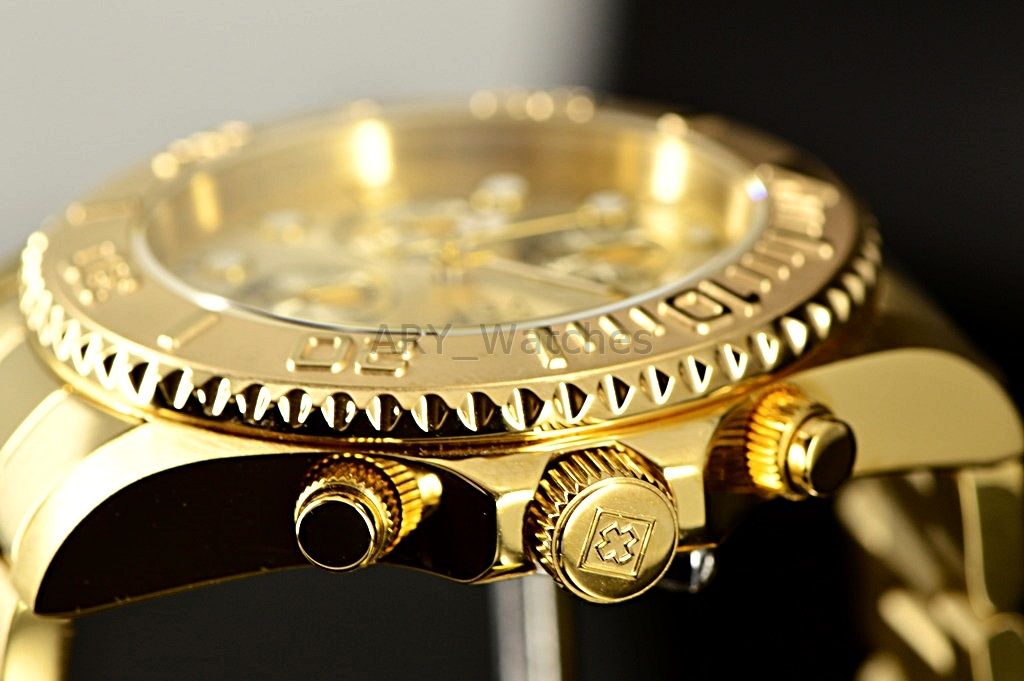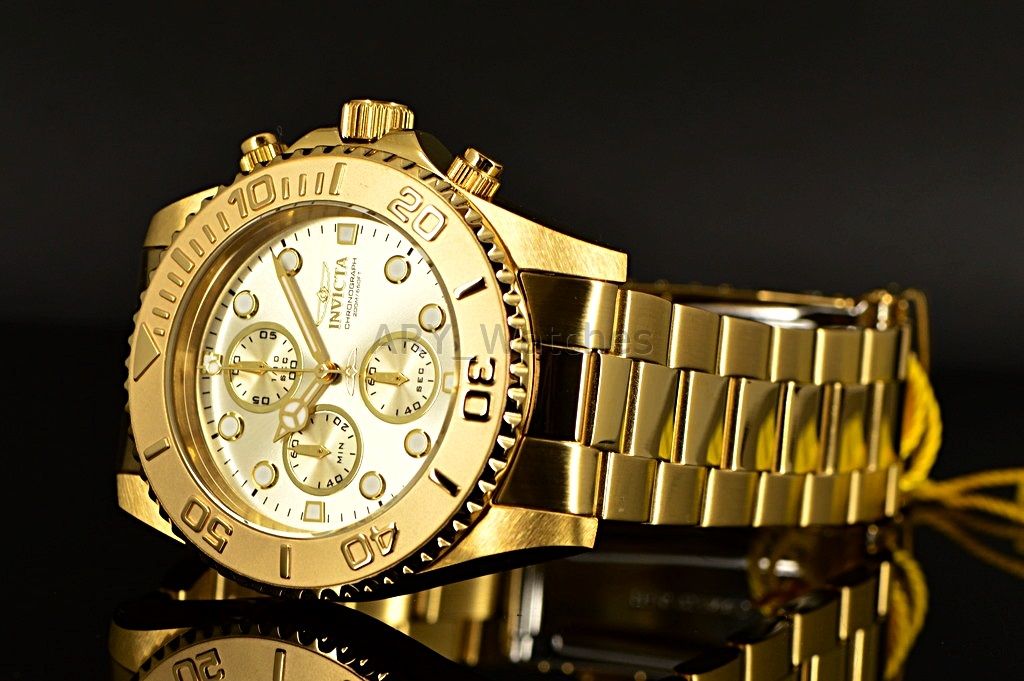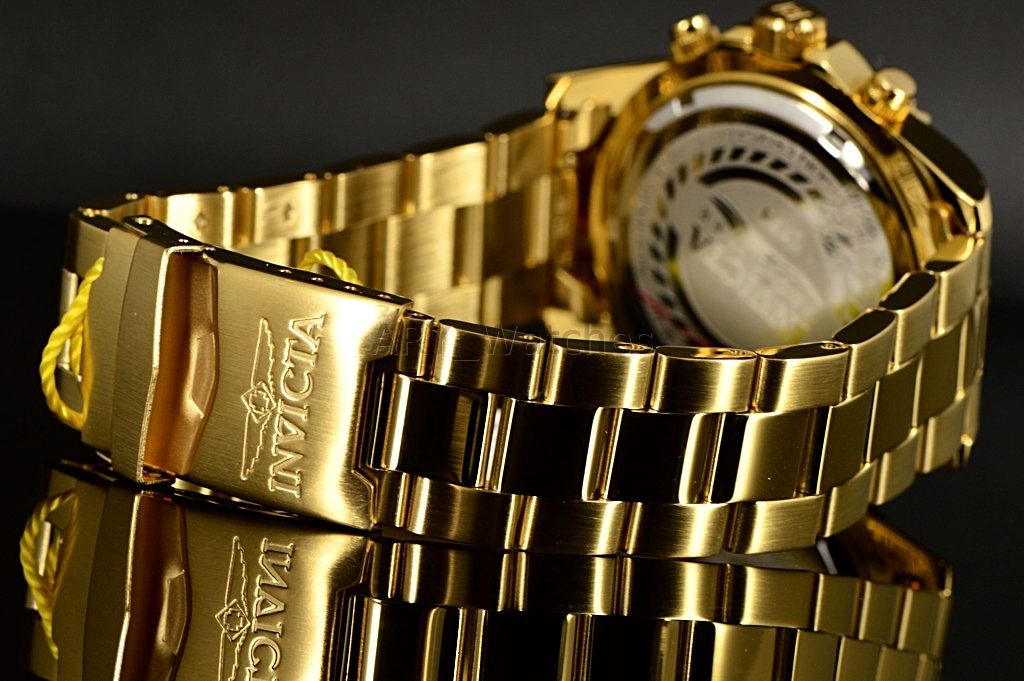 Terms and Conditions
We offer hassle free Returns within 30 Days after the Delivery Date given that the following conditions have been met by the buyer.
1. The item must be in its Original Condition, completely wrapped with plastic wraps, with tags attached to the watch with absolutely no damage to the watch or the box at all.
2. The return must include all of the parts/accessories it originally was offered and shipped with, No partial returns are accepted in any circumstances.
3. Returns are accepted ONLY after ebay's return process, an item shipped without the buyer's consent will not be accepted at all.
4. The Seller is in no way obligated to exchange the item with any other item as per buyer's request, it is totally up to seller's discretion.
5. Refunds and/or replacements are offered at buyer's request only when a replacement is available.
6. Refused Shipments Or the items Returned Due To Buyer's Remorse (for example, Item did not fit, didn't like the item, ordered in error etc.) Would Incur a Restocking Fee Of 15% Of value of the Item.
7. Addresses Entered Incorrectly And Customers Not Available For Delivery Are Included As Refused Shipments.
8. Items Returned In Any Condition Other Than As Shipped Out May Add To The Restocking Fee Up to 50% Or Cause The Item To Be Refused And Shipped Back With No Refund Applied At Buyer's Expense.
about us

We are an Authorized Invicta Watch Retailer of Invicta Watch Company, Miami, Florida and Everything We sell is 100% Genuine and Authentic purchased directly from the manufacturer itself.
Please Understand, We, The Seller, Do NOT offer any warranty on these products, The Warranty is offer by the manufacturer after you have registered this item at their site.
All Measurement given in the listing are approximate.
PLEASE FEEL FREE TO CONTACT THE SELLER BEFORE LEAVING 1, 2 OR 3 STARS OR ANY NEGATIVE FEEDBACK.
INTERNATIONAL BUYERS:
INTERNATIONAL BUYERS PLEASE BE AWARE OF THE FOLLOWING BEFORE YOU PROCEED WITH THE PURCHASE:
INTERNATIONAL CUSTOM DUTIES & VAT ARE RESPONSIBILITY OF THE BUYER & ARE NOT INCLUDED IN THE SHIPMENT CHARGES.
SELLER, IN ANY CIRCUMSTANCES, WILL NOT DEVALUE ITEM PRICE IN THE CUSTOMS FORM NOR WILL MARK THE ITEM AS GIFT.
Please note that it may take up to 25 days or more for international shipments depending on the respective customs to clear the item, so we will not be responsible for any delay in the international shipment, please be aware of this.
WE WILL DEFINITELY DO WHATEVER IT TAKES WITHIN REASONABLE CAPACITY TO MAKE YOU HAPPY & EARN YOUR BUSINESS AND ASSURE YOU TO BE OUR RETURN CUSTOMER.
About Watches
Analog-Digital Display (ana-digi):Watch that shows the time by means of hour and minute hands (analog display) as well as by numbers (digital display).
Arabic Numerals:Popular counterpart to Roman numerals consisting of 1,2,3, etc; Became popular during the 18th century and typically allow for more space on the dial for complications.
ATM:Commonly used measurement in water resistance; Stands for "atmospheres" or the amount of pressure a watch can withstand before leaking; One atmosphere is equal to 10 meters of water pressure.
Automatic Movement:Type of movement where the mainspring is wound via the movement of one's own arm; Movement of the arm causes the rotor to rotate, which in turn winds the mainspring; Similar to mechanical movements, except winding is not manual.
Bezel:Retaining ring surrounding the case and securing the crystal; Sometimes incorporates unidirectional or ratcheting movements, as well as additional benefits such as chapter markers.
Case:Timepiece's container; Protects the movement from dust, dampness and injury; Common case shapes are round, tonneau, rectangular and square.
Chronograph:Timepiece capable of both timekeeping and stopwatch functions; Chronographs are a unique and valued complication due to their ability to measure increments of time.
Chronometer:High-precision timepiece that has been tested and is certified to meet precision standards; Chronometer watches often come with certificates indicating their certified status.
Complication:Any feature added to the timepiece that does not indicate hours, minutes or seconds. Popular complications include chronographs, tachymeters, date windows and exhibition backs.
Crown:Small, cap-like device located on the side of a case that allows the user to set time or manually wind watch.
Crystal:Transparent cover on a watch face that gives view of the dial; Sapphire and mineral are the most common crystals used today.
Date Window:Reveals the numeric day of a given month.
Deployant:Type of clasp that keeps the closing mechanism hidden, creating an uninterrupted look for your bracelet or strap.
Dial:Plate beneath the crystal showcasing the timepiece's features; Sometimes referred to as the face of a timepiece, the dial indicates hours, minutes and seconds, as well as complications such as date windows and sub-dials.
Dual Deployant:Similar to a deployant clasp, except it uses two hinges to fasten or open, as opposed to one.
Dual Time Zone:Timepiece that simultaneously gives time in two time zones.
Exhibition case:Unique complication wherein a crystal is implemented into the case back, allowing view of the timepiece's movement.
Greenwich Mean Time:Refers to the Royal Observatory in Greenwich, England where mean time is kept; Located at the prime meridian of the world, GMT is thought of as "the world's time".
Jewels:International term referring to the rubies, sapphires or other gemstones used as bearings in a watch movement; These bearings are set to reduce friction in a movement and help the delicate parts of the movement work smoothly and with great precision.
Mechanical Movement:Type of movement where the winding crown is used to power the movement; Needs to be manually wound after an elapsed period of time; Sometimes accompanied by a exhibition back to display its old-fashioned sensibilities.
Mineral Crystal:Technical term for glass; Standard crystal used in timepieces today.
Minute Repeater:Timepiece that sounds hours, quarters and minutes as requested.
Moon Phase:Complication on a timepiece that displays the various stages of the moon; Stages include new moon, first quarter, full moon and last quarter.
Mother-of-Pearl:Dial material that has been cultivated from the inside of certain shells; Provides an iridescent surface and gives timepieces a rich aesthetic.
Movement:Assembly making up the principal elements and mechanisms of a watch or clock; Includes the winding and setting mechanism, the mainspring, the train, the escapement and the regulating elements.
Perpetual Calendar:Complication that exhibits the days in a Gregorian calendar, the most common calendar used today; Automatically adjusts to months with different amounts of days in them.
Power Reserve:Time a watch will continue running based on the movement's residual winding of its mainspring; In quartz and digital watches, this can also refer to the amount of energy left in the battery.
Push Button Dual Deployant:Similar to deployant clasps, with the addition of two small hidden push buttons that spring your clasp open.
Quartz Movement:Most common type of movement used in modern timepieces; Vibrating at a high frequency and placed under an electric current, quartz movements provide accurate time without the need to wind.
Repeater:Complex watch mechanism that sounds hours, quarters or minutes, or repeats them on request; Originally designed to help the wearer to tell the time in the dark.
Retrograde:Hour, minute, second or calendar hand that moves across a scale and resets to zero at the end of its cycle.
Sapphire Crystal:High-end crystal that adds greater value to a timepiece; The only natural substance able to harm a sapphire crystal is a diamond.
Skeletonization:Cutting away unnecessary metal from the movement to allow the wearer to actually see through the movement; Any part that is not needed is carved out, leaving only the movement's skeleton.
Subdial:Smaller dials located on the main dial of a timepiece; Used to measure seconds, minutes or days.
Tachymeter:Popular complication that measures distance based on speed; Typically located along the outer rim of a dial.
Water resistant:Watches described as simply "water resistant" can handle light moisture, such as a rainstorm or splashes from a sink, but they should not be completely submerged in water for any length of time; A commonly used measurement in water resistance is ATM, which stands for "atmospheres" or the amount of pressure a watch can withstand before leaking.
About Stainless Steel:Also called corrosion resistant steel, stainless steel is a steel alloy with added iron and chromium. The metal is rust-resistant, durable and highly lustrous. It has a similar appearance to platinum and polishes to a glistening sheen. Any scratches that may occur from day to day wear can be easily buffed away without endangering the piece. Please note, however, if the stainless steel is plated with another metal, the plating can wear off if rubbed excessively against hard surfaces. Stainless steel was first recognized in France in 1821 by metallurgist Pierre Berthier. After several corrosion-resistance related discoveries and patents in Europe and the United States, Harry Brearley in England discovered a modern blend of stainless steel alloy. When it was announced by The New York Times in January of 1915, he was officially credited with the invention of this impressive modern metal.
All water-resistant watches must have the crown and function pushers completely pushed or screwed into the watch case in order to be water resistant to the specified depth. When a watch battery is changed, the gasket and seals must also be checked and/or replaced to maintain water resistance.
Water-Resistant: Watch can withstand an accidental splash of water (like rain) but should not be worn while washing hands, bathing, or swimming
Water Resistant 3 ATM (3 atmospheres, 3 bars, 99 feet): Watch can withstand daily activities and hand washing but is not intended to be submerged under water; Should not be worn while swimming or bathing
Water Resistant 5 ATM (5 atmospheres, 5 bars, 165 feet): Watch can withstand daily activities and may be worn swimming; Not intended for water activities like snorkeling or diving in a pool; Long-term exposure to water submersion is not advisable
Water Resistant 10 ATM (10 atmospheres, 10 bars, 330 feet): Watch can withstand daily activities and may be worn swimming and snorkeling; Not intended for diving to depths outside the limits of a swimming pool; Long-term exposure to water submersion is not advisable
Water Resistant 20 ATM (20 atmospheres, 20 bars, 660 feet): Watch can withstand daily activities and may be worn for most types of diving, with the exclusion of diving that requires helium gases
Water Resistant 30 ATM (30 atmospheres, 30 bars, 990 feet) & Greater: Watch can withstand daily activities and may be worn for all types of diving and water activities